#MotivationMonday: Hurricane Harvey Response
This past weekend, devastation hit southern Texas and Louisiana. Hurricane Harvey hit the gulf coast as a category 4 hurricane, and it still hasn't dissipated or moved on. The initial landfall caused massive damage to coastal cities, and the torrential rains that followed have left many cities ravaged by flooding.
It's easy during times of tragedy to give up, to get negative and cynical and selfish. However, time and time again, America has shown that when faced with devastation, we come together as a nation to protect our own and stand up stronger than before. It happened after 9/11, after Katrina, and we're seeing it now with Harvey.
Hurricane Harvey's Devastation
According to CNN, here are the numbers:
11 trillion gallons of water has been dumped on Texas
13 million people are under flood watches and/or warnings
450 thousand people are estimated to need FEMA assistance
30 thousand people will need temporary shelter
215 thousand kids are out of school in Houston
12 thousand National Guard members have been activated to help
2 thousand water rescues have take place (as of this morning)
316 thousand power outages have been reported
62 counties in Texas are under a disaster declaration
Hurricane Harvey is the most catastrophic storm to hit Texas in many years, if not ever. News coverage has shown image after image of ruined houses, flooded roadways, and ultimate devastation to the areas affected. The storm is still idling over Texas, and the flooding is only expected to worsen over the coming days.
Despite the hardships that have hit Texas the past few days, the tragedy as sparked a nation divided to come together to support victims.
#HoustonStrong
Twitter erupted with support for victims and first responders immediately. News stations are sharing stories of rescued loved ones, heroic neighbors, and American pride. Celebrities have been using their reach to get donations for the relief efforts.
People have come together to help those in need. Some have been sending thoughts and prayers, others have cheered on rescue teams and first responders, some people have shared ways to donate or get involved. It's been inspirational to see how fast differences have been put aside to help the people who are hurting.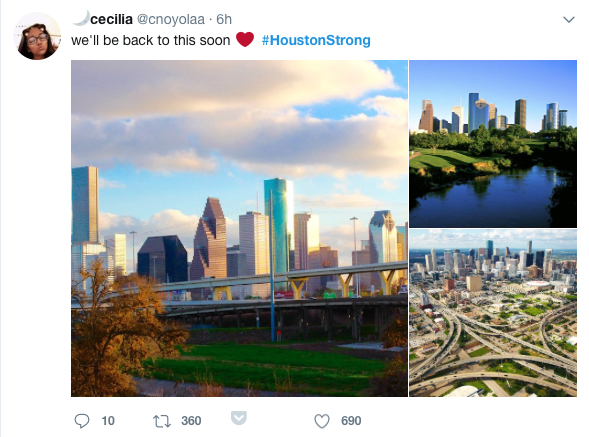 Tragedies like Harvey always prove to ourselves and the world that when it really matters, America will always pull together and support one another. It's during times like these that we are all a little extra thankful to be surrounded by neighbors that would put your safety about theirs.
Texas may be hurting right now, but at the end of the day, we will rebuild stronger than ever. We won't give up, we won't let our neighbors down, and we'll prove once again that we are a nation of people who care about one another.
And if that isn't #MotivationMonday worthy, we don't know what is.